As requested by several people we have decided to release a list of loot and drop rates for the Crystal Chest. Please bare in mind that this list is subject to change and we encourage suggestions and feedback.
When opening the Crystal Chest if you get an item worth below 100k you will get a second item from the same key.
The below screenshot is the loot from 250 Crystal keys.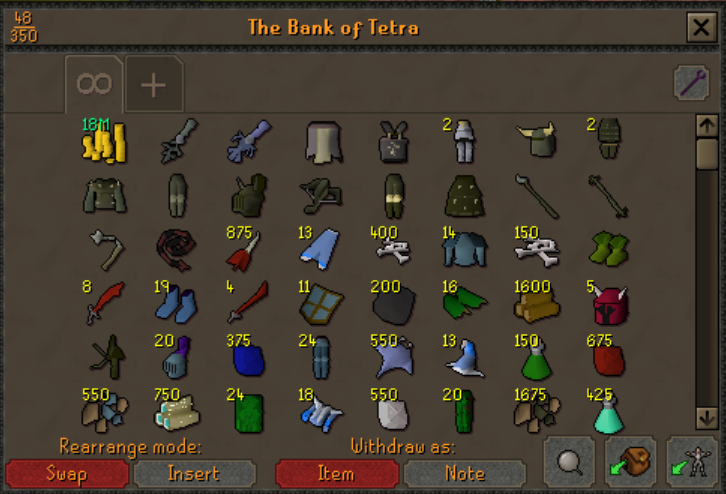 Common Loot
(Given when no other rarity is met)
100 Yew logs
50 Magic logs
25 Prayer potions
50 Manta rays
5 Super combat potions
50 Coal
25 Runite ore
25 Dragon darts
25 Uncut diamonds
25 Uncut saphire
25 Uncut ruby
1 Green d'hide chaps
1 Green d'hide vamp
1 Green d'hide body
1 Rune full helm
1 Rune platebody
1 Rune platelegs
1 Rune kiteshield
1 Mystic hat
1 Mystic robe top
1 Mystic robe bottom
1 Mystic boots
Uncommon Loot
(14% Chance)
10 Super combat potions
25 Dragon bones
50 Big bones
25 Black dragon leather
75 Coal
50 Runite ore
50 Dragon darts
2,000,000 Coins
1 Dragon med helm
1 Dragon scimitar
1 Dragon longsword
Rare Loot
(2% Chance)
150 Dragon darts
1 Dragon chainbody
1 Guthan's helm
1 Guthan's warspear
1 Guthan's platebody
1 Guthan's chainskirt
1 Dharok's helm
1 Dharok's greataxe
1 Dharok's platebody
1 Dharok's platelegs
1 Karil's coif
1 Karil's crossbow
1 Karil's leathertop
1 Karil's leatherskirt
1 Ahrim's hood
1 Ahrim's staff
1 Ahrim's robetop
1 Ahrim's robeskirt
1 Torag's helm
1 Torag's hammers
1 Torag's platebody
1 Torag's platelegs
1 Verac's helm
1 Verac's flail
1 Verac's brassard
1 Verac's plateskirt
1 Abyssal whip
1 Dragon boots
1 Uncut onyx
Very Rare Loot
(1% Chance)
1 Armadyl hilt
1 Bandos hilt
1 Armadyl helmet
1 Armadyl chestplate
1 Armadyl chainskirt
1 Bandos chestplate
1 Bandos tassets
1 Bandos boots
1 Ring of wealth
1 Mystery box
10 Credits bond
10,000,000 Coins
1 Ranger boots